About
Steve Conte is one busy musician; guitarist, singer, songwriter, producer & music educator – both on tour and in studios around the world.
His most recent album, Bronx Cheer was released on Little Steven Van Zandt's label, Wicked Cool Records in the fall of 2021 to great critical acclaim. The album spawned 5 singles, 3 of which were featured as "Coolest Songs In The World" on the Underground Garage Radio Program. Conte produced videos for 4 of the album's songs, which can be seen on YouTube. (see video links here on the "Media" page of this site.) Prior to Bronx Cheer, Steve released a single, "Gimme Gimme Rockaway" on the Wicked Cool label in 2017, and albums; International Cover-Up in 2016 and The Steve Conte NYC Album in 2014 (both on his own label, Thunderdog Recordings) and Steve Conte & the Crazy Truth in 2009 on Varese Sarabande/Universal Music.
Steve is currently working on a new release for Wicked Cool Records on which he has written 5 of the album's 10 songs with his songwriting hero – the incomparable Andy Partridge of XTC.
Besides a rich solo-career, Conte has recently been instrumental in helping some legendary artists like the New York Dolls get their groove back. After 6 years, 4 albums and a never-ending World Tour with the Dolls, he joined up with former Hanoi Rocks front man Michael Monroe as guitarist, songwriter and backing vocalist to release 5 albums of new original material;  Sensory Overdrive, Horns and Halos, Blackout States, One Man Gang and I Live Too Fast To Die Young.  On the Horns And Halos album (2013 Spinefarm) Conte wrote the lion's share of the songs and it was nominated for "Album Of The Year" by the Finnish "Grammys" as well as The Nordic Music Prize.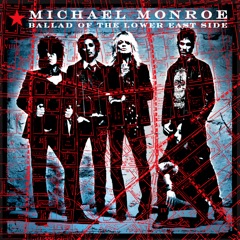 In addition to playing in the USA, Steve has toured extensively in UK, Holland, Belgium and France with his Netherlands-based band as well as playing solo shows in Spain, Italy, Finland & Sweden.
The Conte History:
To understand how one musician can work in so many different genres – punk, funk, rock & roll, soul, jazz, blues, country and folk – you'll have to go back to the beginning…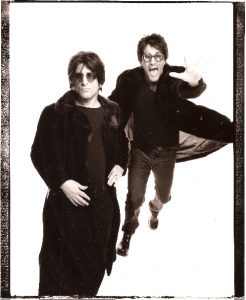 Born into a musical family (mother Rosemary Conte is a renowned New Jersey jazz singer), Steve was singing from the cradle. At 7 years old he began his musical career as a drummer and by age 10 he was playing guitar and effortlessly writing songs. That same year, under the influence of The Beatles, Bob Dylan, Bubblegum Pop and Philly Soul, Steve and his brother John recorded their first "album" in the family living room with Steve singing, playing guitar and drums and "producing."
It was the Beatles' Revolver album that made him want to be a singing, song-writing, guitar-playing, record-making musician – especially the Lennon numbers, "She Said, She Said" and "Tomorrow Never Knows".
Throughout his school years, Conte cut his teeth playing at the usual teen dances and school variety shows as well as church "folk" masses and backing up his single mom at local venues. His record collection expanded beyond his Beatles, Chuck Berry, Dylan and Simon And Garfunkel roots – into the classic rock of the Stones, Who, Zeppelin, Hendrix and eventually, the more progressive sounds of Yes, Jeff Beck, Steely Dan and The Police.
Playing mostly by ear and feel, at 17 Steve felt he had mastered straight rock guitar and was beginning to take an interest in the jazz that his mother loved so much (the sounds of Billie Holiday and Wes Montgomery had been filling the house since he was born.) So when he was offered a full scholarship to study music at Rutgers University with renowned jazz artists Kenny Barron, Larry Ridley, and Wes Montgomery protege Ted Dunbar, he gladly accepted the challenge. It was there that Steve learned the harmonic vocabulary of jazz, developed his ear and honed his bebop chops, playing one-on-one with Ted and Kenny Burrell and in big band situations with Sonny Stitt and Philly Joe Jones. On weekends he and his bass playing brother John did gigs with their jazz-rock band Conte Brothers Fusion, supporting artists like the Dixie Dregs. Upon graduation he moved to New York city and took his first road gig with legendary Blood, Sweat And Tears.
During his early years in New York (1986-87) Conte landed a variety of gigs; he was guitarist/musical director for Prince And The Revolution singer Jill Jones, session and live guitarist with James Brown producers Dan Hartman and Charlie Midnight (Steve's first record date was the Hartman-produced Joy album by Paul King) as well as a stint with NJ rocker Glen Burtnick  and jazz fusion band Bushrock led by keyboard virtuoso, Delmar Brown.
In 1988 along with blues harp master Rob Paparozzi, Steve and his brother John founded the blues band The Hudson River Rats whose residency at the Acme Bar & Grill in the West Village afforded them the chance to meet and play with many blues greats and pop stars. The brothers laid it down with Etta James, Charlie Musselwhite, James Cotton, Johnny Adams, Reese Wynans (Stevie Ray Vaughn), Phoebe Snow, Cyndi Lauper, John Waite, Richie Hayward (Little Feat), Will Lee, Lou Marini (Blues Brothers), Carol King, The Uptown Horns, Steve Clark (Def Leppard), and many others.  Legendary funk/soul drummer Bernard "Pretty" Purdie eventually joined the band after jamming with them many times. This was Steve's entrance into the NYC studio musician scene, where he still works today. Besides numerous playing and singing on film / TV soundtracks, commercials and video game music, he's been recorded on albums with many of his childhood heroes;  J. Geils Band frontman Peter Wolf (Fool's Parade, 1998) and James Brown sax-man Maceo Parker (Funk Overload, 1998) as well as the single "Fear Of The Unknown" with rock 'n roll legend Suzi Quatro.
One incredible evening at The Meadowlands' Trackside Park, Steve and the River Rats rhythm section were hired to be the backing band for their idol – Chuck Berry. Steve remembers: "When Chuck had heard that I was on the gig he warned the promoter that he didn't use another guitar player, but would give me one song to prove myself. Well, not only did Chuck let me stay on the stage for the whole show, he called me out to play solos on 2 slow blues numbers and when he broke a string on Johnny B Goode, gave me the middle break – the first guitar solo I had learned as a kid! I have the whole thing on video…my smile is so wide it looks like my face will crack in half!"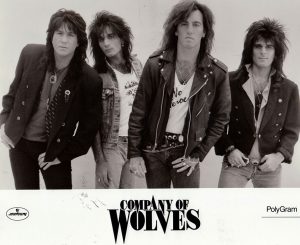 It was at one of those Acme blues nights that he struck up a friendship with singer-songwriter Kyf Brewer. The two began writing (their first song was "The Distance") and formed a band to showcase the material with brother John on bass and drummer Frankie LaRocka.
That band, Company Of Wolves was the beginning of Steve's "major league" recording and songwriting career. Signed to Mercury/Polygram records in 1989 the Wolves recorded 2 albums, toured arenas & clubs, made 2 MTV videos and ultimately, left the label before disbanding in 1992.
The Conte brothers went on to start their own project, Crown Jewels, releasing 2 indie albums; Spitshine in 1996 and Linoleum in 1999. In the early days, the Jewels were a blues-rock power trio; the brothers Conte with a plethora of great drummers including Shawn Pelton (Sheryl Crow, Rod Stewart), Paul Garisto (Psychedelic Furs, Iggy Pop), Tony Beard (Jeff Beck, Hall & Oates) and Steve Murphy (Alan Parsons Project) and occasional B3 organ by Chris Palmaro (Joan Osborne, Michael Jackson) and Rob Clores (Tom Jones, The Black Crowes). However, by the 2nd album Steve had moved into a more introspective, lyrical style of songwriting and the band sound got softer, recording with Palmaro, cellist Mark Stewart (Paul Simon) and drummers Rich Mercurio (Chris Whitley) and Garisto. Around this time Steve also did double duty becoming a member of Alt-Country band Mr Henry, with whom he made 2 albums playing guitar, writing songs and providing some lead vocals. The albums, Jackhammer and 40 Watt Fade were produced by John Hampton (The Replacements) and David Bryson (Counting Crows), respectively.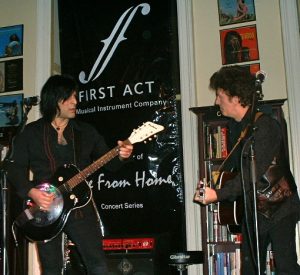 Folk-rocker Willie Nile provided Steve his first opportunity to tour in Europe in 1999 while regular guitarist Andy York made an album with John Mellencamp. Steve recalls – "From the very first show I played in Italy there was a completely different vibe from the audiences there than in America. There was a wonder in their eyes as we took the stage and started to plug in…it was as if they were anticipating us about to create something right in front of them. Such enthusiasm for music making. I thought – I could get used to THIS!"
The following year Steve got one of  most unique and musically rewarding gigs of his career; he was hired by Paul Simon to be his stand-in vocalist. During rehearsals with his amazing and massive band, Paul didn't always want to sing, so Steve became Paul, learning the entire Paul Simon songbook from his folk era up through his newest release at the time, You're The One.  Conte says, "It was a musical education, learning all that phrasing and odd meter stuff from Rhythm Of The Saints and Graceland – and getting to sing with some of the greatest players in the world – like Steve Gadd and African musicians Bakithi Kumalo, Tony Cedris and Vincent Nguini – it was like a dream come true".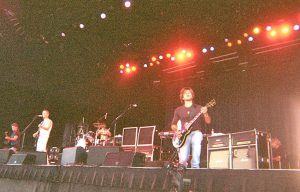 In 2001, his old pal Billy Squier called on Steve to join him on a summer tour (along with Bad Company and Styx) to commemorate the 20th anniversary of his breakthrough Don't Say No album. Back in 1993 Steve had played guitar and sang on Billy's final Capitol album, Tell The Truth produced by the legendary Mike Chapman.

Directly from the Squier tour, Steve flew to Japan to sing with composer Yoko Kanno and her band The Seatbelts on a live concert in Tokyo. Steve had been a featured vocalist in the studio with Yoko since 1998, performing on her solo album Song To Fly and soundtracks to anime series such as Cowboy Bebop, Ghost In The Shell and Wolf's Rain. Those series' have since become cult classics and earned him a rabid following along with the Sonic The Hedgehog game, Sonic And The Seven Rings, to which he contributed vocals and guitar. When he returned home to NYC in early September of 2001 the world was about to change…
Before the World Trade Center disaster Steve and John had begun work on a new album that they would release under the name, The Contes. The album, Bleed Together would stretch their musical muscles with the brothers switching instruments and experimenting in the digital realm.  Laying down the grooves were 4 of their favorite drummers; Charley Drayton (Keith Richards & The X-Pensive Winos, B-52s), Aaron Comess (Spin Doctors), Nir Z (John Mayer) and Rich Pagano (Roseann Cash). But halfway through recording the album, a call came in that would truly change Steve's world…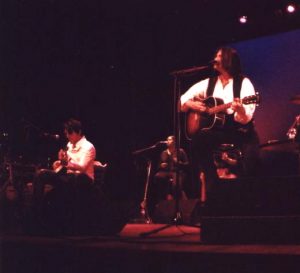 Willy DeVille of the New York City punk-era band, Mink DeVille had been a vocal hero of Steve's for many years. When that call came in asking Steve to join Willy's Summer 2003 European Tour playing guitar and mandolin, he was excited but hesitant. "My friend David Keyes, Mink DeVille bass player knew I was a fan of Willy's music so when guitarist Freddie Koella couldn't do the tour that summer he called me. David said that the gig called for mandolin, Tex-Mex nylon string, and slide guitar but I told him that those were outside my area of expertise. David really pushed me saying, "Come on man, you can do it…" I couldn't pass up the chance to play those great Mink DeVille songs with Willy and to see the great cites of Europe – so I rose to the occasion. I'm glad I did."  Steve met his future wife and mother of his children on that summer tour. The best "Tour Bonus" any musician could hope for.
After releasing The Contes Bleed Together album that fall, Steve went back to Italy for a solo electric tour, headlining small clubs and opening for blues legend John Mayall. Upon returning to the USA he began rehearsals for the Simon and Garfunkel reunion tour where he was not only the vocal "stunt double" for Paul Simon – but for also Art Garfunkel. This was yet another opportunity for Conte to sing (and play guitar) with some of the most respected players in music; Jim Keltner on drums, Pino Pallidino on bass, Warren Bernhardt on piano and a host of others. After leaving the duo to do their 2003 tour with The Everly Brothers (with whom Steve got to harmonize with during rehearsals) it would be a number of years till Steve would work with Paul again.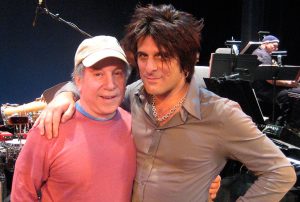 And in 2004 another life changing call came in – "Steve, this is David Johansen…" What was supposed to be a one-off reunion gig at London's Royal Festival Hall turned into 6 years, 4 albums and touring on 5 continents.
Steve Conte had joined the New York Dolls.
With original members Johansen, Sylvain Sylvain and Arthur "Killer" Kane (plus Libertines drummer Gary Powell) the band played 2 sold out shows in London and released a DVD & CD of the show – Morrissey Presents: Live From Royal Festival Hall – The Return Of The New York Dolls.  Steve recalls – "It was really freaky being backstage there and having Mick Jones of The Clash, Bob Geldof and Chrissie Hynde walking up to ME and saying what I fantastic job they thought I did filling Johnny Thunders shoes – because I was never really a fan of his! Of course I am now, but at the time I guess I was a good fit regardless because I came up idolizing the same guys he did – Keef and Chuck Berry. If you play that style a bit looser with your amp turned up all the way, that's JT!" 
Within a month of the band's triumphant return bassist Arthur Kane died of leukemia, as documented in the 2005 film New York Doll. The Dolls soldiered on in his honor with new bassist Sami Yaffa, drummer Brian Delaney and keyboard player Brian Koonin, touring every corner of the globe with acts like The White Stripes, The Pixies and Morrissey until finally, it was time to make some new music. Conte wrote many of the new songs with Johansen, Sylvain and Yaffa for the reunited Dolls' studio albums, One Day It Will Please Us To Remember Even This (2006) and Cause I Sez So (2009), produced by Jack Douglas and Todd Rundrgen respectively. (A hastily recorded in-concert album, Live At The Fillmore East also came out in 2008)
Steve was having such a blast getting back to basics with The Dolls both onstage and in the studio that he started a new band for himself – his first project without brother John –  "Steve Conte & The Crazy Truth". Named after a Charles Bukowski poem, the Crazy Truth was a raw power trio with a true Noo Yawk sound: ("If there ever was a rock and roll guitar album that could kick start a sense of rock and roll adrenalin in the tradition of Lou Reed, Johnny Thunders, Mink DeVille and Television, it has to be Steve Conte and the Crazy Truth." – Amazon.com/UK). They released their eponymous debut album in 2009 on the Varese Sarabande label in the US (Colosseum Records in EU). With drummer Phil Stewart and bassist Leeko, the band gained a loyal following as well as respect from peers in the music world; Steve Lillywhite (Producer of Rolling Stones, U2), Cheetah Chrome (Dead Boys) and Rick Richards (Georgia Satellites, Izzy Stradlin & The Ju Ju Hounds) can all be counted as fans! Visit – www.steveconteandthecrazytruth.com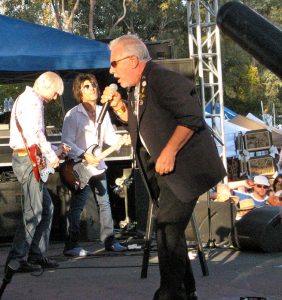 In 2007 Steve began moonlighting with the legendary Eric Burdon of  The Animals, touring on and off with him until 2009, enjoying shows with guests like original Animal, Hilton Valentine and Lee Oskar from War.
Paul Simon called upon Steve again in 2008 but this time not to sing as his stand-in, but to sing and play guitar as "himself" in Paul's new show, Songs From the Capeman.  The show was performed at the Brooklyn Academy Of Music for 6 nights in row. This was another fantastic musical opportunity for Steve, who got to sing and play with the incredible Latin dance band, the Spanish Harlem Orchestra.
Around this time Conte also shared the stage with the legendary Les Paul on his steady Monday night gig in NYC at the Iridium. "Les asked me what song I wanted to play with him and his trio, so I called Thelonius Monk's "Blue Monk". What a blast to play with the man who invented multi-track recording AND the Gibson electric guitars that I play!" After Les passed away Steve was invited back to headline a whole night at The Iridium with The Les Paul Trio. "We played some blues, jazz standards, some of my original songs and one of the tunes Les made famous, 'How High The Moon'. Both experiences with Les and with just his Trio were incredible."
Conte's years with the Dolls put him in musical contact with many diverse players; from Rundgren and Bo Diddley to Flamenco guitar legend Raimundo Amador. During a Dolls tour of Spain, Raimundo met the band in his his hometown of Seville and gave them a private Flamenco concert backstage. After the show he and Steve jammed on nylon string guitars until the sun came up. The two became fast friends and shortly after, Rai invited Steve to his home in Andalucia to jam, record and to be featured as guest guitarist and singer on one of his festival shows there. It was quite an honor and a surprise considering that Steve had never even attempted to play anything remotely like Flamenco music.
In late 2008 Steve was called upon by film composer Andrew Hollander to help write songs for the film The Perfect Age Of Rock And Roll,  the story of a fictitious rock band band that had a hit album years ago and was trying to make a comeback. In the film , the band had to make a pilgrimage down to the southern juke joints and soak in some of this country's last remaining blues players. Ironically, 2 of the blues players who appear in the film and who played with Steve on the soundtrack; guitarist Hubert Sumlin (Howlin' Wolf) and pianist Pinetop Perkins (Muddy Waters) are no longer with us but luckily, their performances have been preserved here. Other members of the Perfect Age Blues Band included harmonica whiz Sugar Blue (Rolling Stones),  bassist Bob Stroeger (Otis Rush) and drummer Willie "Big Eyes" Smith (Muddy Waters). Steve and Hubert had performed together a number of times including an unforgettable "guitar duo" set at Levon Helm's Midnight Ramble, the Woodstock Film Festival, his own Howlin' For Hubert and New York Dolls shows.
Other musical highlights from this time period included recording guitar with composer Danny Elfman (The Simpsons, Batman) for the soundtrack of the Focus Features film Taking Woodstock,  a TV talk show pilot with Carmine Appice (Rod Stewart, Jeff Beck, Ozzy) and bassist T.M. Stevens (James Brown, Pretenders), and playing live with Bernie Worrell, Bettye Lavette, Sam Moore, Levon Helm, Joan Osborne, Southside Johnny And The Asbury Jukes, Denny Laine (Wings, The Moody Blues), Joey Molland (Badfinger), Terry Sylvester (The Hollies), Felix Cavaliere (The Rascals),  Steven Van Zandt and Bruce Springsteen.
In 2010 as things began to slow down for The Dolls a new situation presented itself; Sami Yaffa had begun working on music with his former Hanoi Rocks bandmate, frontman Michael Monroe and they were in need of a guitarist for a tour. When they called Steve, who had enough free time to check it out – he did, and the rest as they say, is history.
Conte joined forces with Michael, Sami, drummer Karl Rockfist and Ginger of The Wildhearts to make the live album,  Another Night In The Sun, a collection of Michael's back catalogue of songs from Hanoi, Demolition 23 and his solo albums. After touring for a year supporting acts like Guns 'N Roses, Foo Fighters and Motorhead they got to work on what would be their first studio effort together, Sensory Overdrive. Steve co-wrote a number of songs on the album, most notably, "Got Blood" with Ginger. The album was released in 2011 to an amazing response; it won Album Of The Year at the Classic Rock Magazine Awards, won a Finnish Grammy, was #1 on iTunes Rock Tracks and is now approaching Platinum in Finland. Ginger departed a few months after the release of the album and was replaced by Backyard Babies/Hellacopters guitarist, Dregen. The new lineup's next album would be markedly different due to the sound of the band with Dregen and the songwriting of Steve Conte. The MM band's latest release, Horns And Halos includes 3 songs written by Steve alone – one being the first single/video, "Ballad Of The Lower East Side" – with the bulk of other 11 songs being co-written with Dregen or Yaffa. The music is for the most part a band effort but nearly all of the words and melodies are by Conte…and as usual, Michael Monroe delivers that kick-ass vocal attitude as only he can.
2015 saw the release of Blackout States, yet another Michael Monroe band album that he wrote many of the songs for, including the bulk of both video/singles; "Old King's Road" and "Goin' Down With The Ship". In 2016 Conte produced & arranged blues harp player Dennis Gruenling's solo album Ready Or Not (currently on the ballot for a Grammy nomination) as well as his own "covers" album, International Cover-Up. The album enjoyed much airplay on Little Steven's Underground Garage radio and the opening track, "Somebody's Gonna Get Their Head Kicked In Tonight" came in TOP 5 for the title of Coolest Song Of The Year, a competition run by the station.
And now, the next logical step on this path – his first official solo-career website – Steve Conte Music!